Zero Gravity
Golden Technologies Zero Gravity Lift Chair
The Zero Gravity or Infinite Position products serve clients who usually are convalescing from stomach, back operations and the need to have feet elevated above the heart or knees. They can recline up to 178 degrees and are suitable for sleeping. Zero Gravity (Golden Technologies) or Infinite Position (Pride) lift chairs have 3 positions:
at Rest or Sitting
Fully Extended
Reclined (Up to 175 degrees)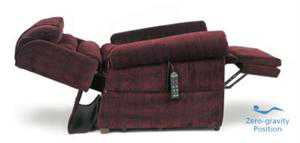 Click this link to BUY a Zero Gravity Lift Chair
Click this link to RENT a Zero Gravity Lift Chair
Golden Technologies Product Lines
Price Ranges (number of Products)
Comforter Series – $1099- $1258 (5)
Zero Gravity – $1428 – $1500 (5)
Pride Product Lines and Price Ranges
Price Ranges (number of Products)
Infinite Position – Lift Chairs – $1398 – $1500 (2)
Compare and Contrast: Golden Technologies and Pride Lift Chairs
There are subtle differences between Golden Technologies and Pride product lines, colors, fabrics.
Golden Technologies products are characterized by models that are uniform from the stand point that there is little individual variation between the different lines of furniture the offer with respect to chair width, back height. Golden Technologies offer ample choices for colors and fabrics.
Pride lift chairs have the same number of chairs lines but offer much more variation in widths, back heights and material choices.